The unique shape of our memory pillow helps keep your neck and head in alignment with your spine, allowing you to rest in a 'neutral' position with reduced pressure-reduced pressure means less tossing and turning during the night. With better alignment of the breathing passage, the contour bed pillow also helps to reduce the likelihood of snoring!
Our Memory Foam (originally created for NASA) bed pillow is heat sensitive and conforms to provide customized comfort and the support you need to rest comfortably throughout the night whether you sleep on your side, back, or stomach. Allergy sufferers love our memory foam bed pillows because they're naturally hypo-allergenic.
Have a non-stop flight to slumberland with the Memory Foam Pillow. Sleep is very important as that is the time when the body repairs and recharges itself. Experience the most restful night's sleep as this wonder pillow easily contours to the neck and head for total support and comfort, instantly reverting the back to its original shape in just mere seconds. It takes advantage of the revolutionary space-aged visco-elastic memory foam that allows it to mold itself to the head and neck to provide maximum comfort and support. Enjoy napping time minus the deafening lullabies with the Memory Foam Pillow.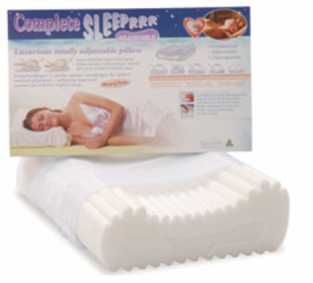 Memory Pillow