Relaxation exercise with facial reflexology
Here are a simple exercise you can practice when you wake up or during any time of the day you need to relax.  Only takes a few minutes.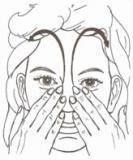 Start rubbing hands vigorously against each other for warmth.
Then put the palms of the hands on the face on each side of the nose,fingers upwards.
With pressure, raise your hands along the central axis to the roots of the hair and then get hands on each side of the face to the jaw and chin.
Repeat the movement several times.
This exercise relaxes, activates blood circulation and energy.