DESCRIPTION: Good Health with Acupressure, Magnet & Pyramid, Discover Second Heart under your Feet
Acupressure, Magnet & Pyramid Health Care Product for the Family
RE-CHARGE & REJUVENATES YOUR WHOLE BODY GET RELIEVED FROM MUSCULAR ACHES & PAINS
USE: Place feet over the Foot Massager & move with gentle pressure using to & fro action for a few minutes every day. This wonder massage will give you HEALTH,  FITNESS  &  VITALITY.
BENEFITS: Helps to relax & massage foot bottom to Strengthen metabolism in the body. Helps mental & physical recharging. Eliminates fatigue.
Accelerates blood circulation, relieves stress  & strain. Helps to recover energy in numbed & aching muscles align: justify.
THIS MASSAGE GIVES INSTANT RELIEF FROM
HEADACHE, SINUS, HEEL – PAIN, ACIDITY, MIGRAINE, GASTRIC, CRAMPS, ASTHMA, KNEE PAIN, SCIATICA, DIABETES, CONSTIPATION.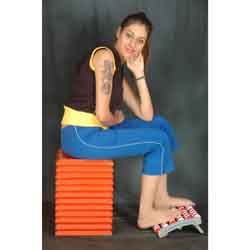 Foot massager